What Your Buttocks Shape Says About Your Health
|
Round, square, pear or v-shaped: The shape of your buttocks says a lot about what you should pay particular attention to with your body!
Sounds a bit weird at first glance, but it's true: the shape of your buttocks tells you a lot about your body and your health. If you pay attention to where exactly your organism deposits new fat cells, you can draw important conclusions. Roughly speaking, most buttocks fit into one of four butt shapes – here you can find out what they say about you.
Round shaped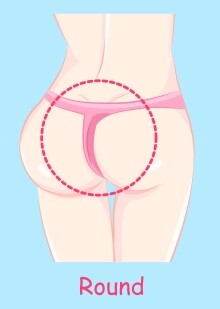 Often referred to as "apple bottom" and for many people as they imagine a "cracked bottom". Here everything is round as a ball, the top and bottom of the buttocks have the same distribution of body fat. Seen from the side, this butt shape sometimes seems to have almost buoyancy (extreme example: Kim Kardashian).
Those who have this body shape attach importance to a good fitness. In most cases, an apple butt is the result of hard work and a regular workout. Perhaps this is the reason why this butt shape is not very common. The wearer of an apple bottom can consider herself lucky: Common beauty flaws like stretch marks or cellulite are not typical. Besides, she can wear any type of trousers without being afraid that her flip side will look bad.
Square shaped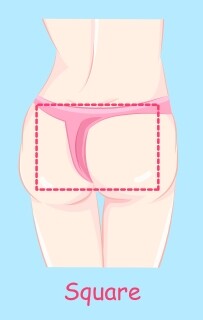 In this buttocks form, the hip bones are either very pronounced, or set a little higher than in the average buttocks. Often the distribution of fat is also transferred to the hips, making the bottom appear square, with almost straight lines from the hips downwards.
As a result, this body type appears rather compressed from the back. In order to still create a slim silhouette, it is important to use high-waisted trousers. This way the gaze is directed to the waist and the body length is stretched. We also recommend so-called "push-up" jeans, which lift the bottom and cheat an "apple butt". Unfortunately, this buttock shape tends to weak connective tissue and cellulite.
Heart/Pear-shaped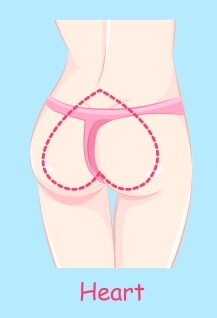 Here the body fat is more spread over the lower buttocks and thighs, making the overall shape look more like a pear or an upside-down heart. This typical shift in body fat is usually due to a highly pronounced oestrogen balance.
This buttock shape is therefore particularly feminine. If you still want to cheat your bottom a little bit smaller, you can reach for trousers with small back pockets.
Triangular or V-shaped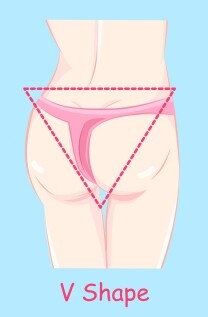 A downwardly tapering buttocks in "V-shape" is often observed in older women. They have a lower oestrogen level, which means that the body fat is no longer deposited so strongly on the thighs and bottom, but rather in the middle of the body. As a result, this bottom shape is wider at the top than it is at the bottom.
This body type shows that you should exercise more and eat a higher protein diet. The increasing age that favours this butt shape can be tricked out by more exercise. Just take the stairs or ride your bike more often. Protein-rich nutrition also helps to promote muscle building. All those who prefer to avoid sports should try "push-up jeans" for a lifted and crisper butt.
Your buttocks, your body
Knowing your own buttocks exactly does not only help with style and clothing, but also knowledge about the oestrogen level in your body allows you to draw conclusions about your health.